Unlock Your Beauty
with our Bespoke Cosmetic Dentist in Melbourne
Achieve a balanced and beautiful smile with our premium cosmetic dental solutions.
Unlock Your Beauty
with our Bespoke Cosmetic Dentist in Melbourne
Achieve a balanced and beautiful smile with our premium cosmetic dental solutions.
A Transformation Journey at Dental & Skin Clinic
Your expert cosmetic dental clinic in Melbourne
Everyone deserves a smile they can fall in love with. It's the ideal confidence boost, allowing you to shine from inside out. 
Our professional team are experts at creating beautiful, luminous and life-like smiles that you can wear day in and day out. 
Using the latest techniques and technology, we offer the best cosmetic dentistry Melbourne has to offer.
The Ultimate Smile Transformation
Your smile is one of the best first impressions you can share with those around you, and we're here to make it a lasting one.
We bring together beauty, health and functionality through our cosmetic and general dentistry services. Our extensive range of treatments cover everything from veneers and teeth whitening through to correction for cracked or chipped teeth. No matter the concern, we have a solution that will leave you grinning from ear to ear.
Get to know our services a little better…
"I am SO pleased that I took this journey with Dr Rita Trak at Dental + Skin Clinic. Not only is the clinic a calm and comfortable environment to be in, the staff and Dr Trak put me completely at ease."
THERE'S A BEAUTIFUL SMILE INSIDE OF ALL OF US
Dental + Skin Clinic is renowned for our porcelain veneer smile makeovers and is home to transformations that personify freedom of expression. With dedicated learning, innovation and experience, Dental + Skin Clinic has created a system that delivers exceptional results, every time.
Cosmetic & Dental Services for a winning smile!
You deserve a winning smile you're proud of. If you're not happy with what you see in the mirror, then it's time to visit our cosmetic dentistry. We have a range of services tailored to your specific goals, to leave you with a smile you love.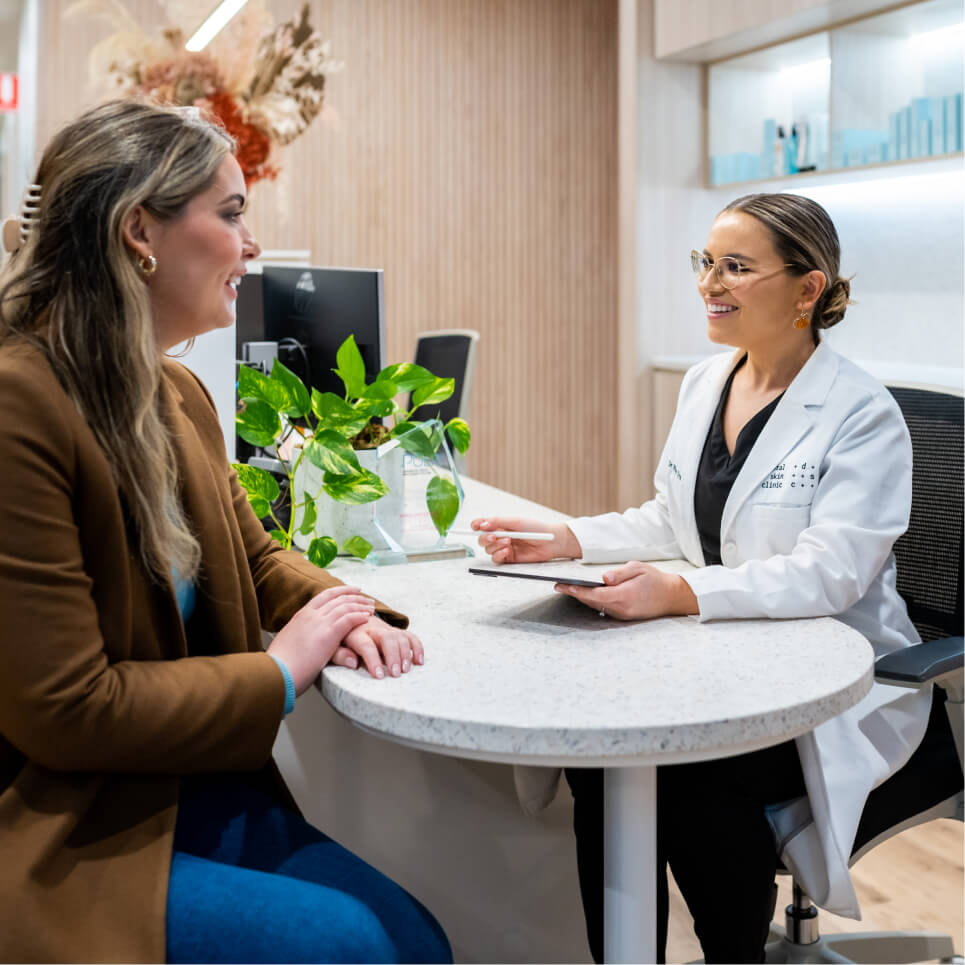 SHOW THE WORLD WHO YOU ARE
Through a proven combination of innovative dental science and years of experience, we perfect healthy, long-lasting smiles that give you a whole new level of confidence.
Dental + Skin Clinic focuses on premium, bespoke cosmetic dental and skincare solutions that enhance your look through aesthetic facial harmony.
Embrace the smile you've been looking for with A V.I.P. Smile™
The detailing of each V.I.P. Smile™ Porcelain Veneer is natural and life-like with a special blend of ceramic to closely mimic the details of your natural teeth.
For those who want to discover a healthy, lifelike look, our trademark porcelain V.I.P. Smile™ Porcelain Veneers will give you a smile that looks like you were born with it.
Our V.I.P. Smile™ Porcelain Veneers are made using state-of-the-art technology in Melbourne and are customised so that no one smile looks the same.
SMILE NOW & PAY OVER TIME
Dental + Skin Clinic offers customers a Smile Now & Pay-Over-Time option for dental veneers, meaning you can get the smile of your dreams while minimising the upfront payment.
Transform your smile while still feeling like you! As a leading cosmetic dental practice in Melbourne, our skilled team will mimic your natural teeth with our V.I.P. Smile ™ Porcelain Veneers, which also improve alignment, shape and colour for a complete smile transformation. 
Composite veneers are an intermediate solution that can be applied in as little as one to two dental visits. This is suitable for minor cosmetic dental concerns of up to 4 teeth. It offers an instant solution that will have you smiling straight away.
Give yourself a new reason to smile with our powerful 38% active ingredient in-chair teeth whitening. Ready to make your smile even brighter in as little as an hour and a half, experience the difference of our superior technology with the highest concentration of the active ingredient to give you whiter teeth for longer.
Are your teeth broken down? Do they need a little extra care? When porcelain and composite veneers are not an option, our dental crowns will build back a smile you can be proud of. Our unique five-step approach is specifically tailored to your smile in order to fine-tune the colour and shape of your new smile.
An alternative to dental implants, a dental bridge can replace one or more missing teeth without the need for dental implants. Unlike dental implants which are done in several stages and take about 3-6 months to complete from start to finish, a dental bridge can replace a missing tooth/teeth in as little as 3 weeks.
Missing teeth can happen to anyone. It's nothing to be ashamed of, but it is something you can fix! Dental implants feel that gap and give you back your winning smile. Talk, chew and smile again with confidence.
Gum lifts (aka gum architecture)
If you feel your smile shows off a little too much gum and detracts from the natural beauty of your appearance, a gum lift is the perfect solution. Gums frame the teeth the same way that hair frames the face. Gum lifts or gum architecture is a often done as part of someone's overall smile makeover in cases where the gums are uneven or someone is showing too much gum when they smile. Reshape your gums and create a sought-after smile that can't be wiped from your face.
It often doesn't matter how much energy and care we put into our teeth, over time general wear and tear occurs, leaving you wanting. Whether you're in the throes of a painful toothache, having trouble with your wisdom teeth, or dealing with cracked or broken teeth, our knowledgable dental team is ready and waiting for all your dental needs.
While we are experts in cosmetic dental services, we also cater to all your general dental needs for the entire family – even children! Prevention is at the heart of what we do, instilling proper dental hygiene and care from the start, so healthy teeth and healthy gums grow and thrive over the years. 
From tooth extractions and dental fillings to dental mouthguards and root canal treatment, our services extend beyond dental cosmetics to offer you a comprehensive approach to dentistry.
Our Dental + Skin Clinic is conveniently located in Bentleigh East. When searching for 'cosmetic dentists near me' the options can be overwhelming. You need to find a service you can trust, with a warm and inviting approach to completely transforming your smile.
As the best cosmetic dentist in Melbourne, you can trust our reliable team to create a winning smile that will have you grinning from ear to ear. Here at Dental + Skin Clinic we know you're beautiful and want to give you a smile to match. 
On the hunt for a reliable dentist near Bentleigh? Get the dental care you deserve with our trustworthy team in servicing Mckinnon, Moorabbin, Oakleigh and surrounding suburbs.
Get in contact with Dental + Skin Clinic and step into the smile transformation journey you deserve.